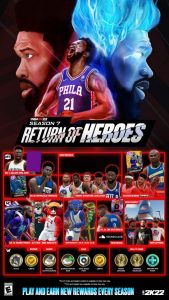 2K Sports announced its plans for NBA 2K22 Season 7: Return of Heroes, the event includes new challenges and rewards for MyTEAM and MyCareer.
As NBA 2K22 reaches the end, 2K Sports is dropping new content regularly in an effort to hold players interest. Season 7: Return of Heroes is live, putting the focus on assembling a roster full of NBA heroes to go head-to-head against other teams in an attempt to complete all the challenges introduced in the new season. With Season 6: Zero Gravity becoming the most popular season to date in terms of player completion, 2K Games surely has high hopes for Season 7.
Whats coming in NBA 2K22 Season 7: Return of Heroes?
For MyTEAM content, a total of 15 99-overall Dark Matter reward cards will be during Season 7. Players will start at Level 1 with a Hero Galaxy Opal Zion Williamson, obtaining several Galaxy Opal and Dark Matter players along the way. As the challenges increase in difficulty, so will the opportunity to construct a team full of high-end players.
The mural system is back. The reward for completing the mural is to be determined, the one thing we do know is it won't be another Coach card.
MyCareer will also receive new updates, featuring a bunch of rewards for players completing each level and reaching the ultimate prize of Level 40 super stardom. In Season 6: Zero Gravity, players who reached Level 40 were granted a Bunny Suit, Season 7 appears to be continuing the trend. Season 7: Return of Heroes will roll out gadgets and costumes throughout the event, leading up to an NBA Mascot outfit at Level 30 and a Jetpack upon completion. For current-gen players, the Jetpack will not be available and, instead, replaced with the NBA Mascot outfit, while reaching Level 30 will be swapped with an Affiliation Mascot outfit.
Thank you for reading!