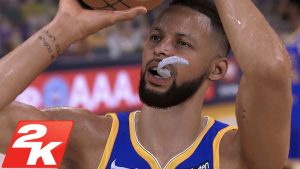 The latest Locker Code lets you pick a player from the Playoff Option Pack.
Yesterday a new NBA 2K22 MyTEAM Locker Code was released, luckily for you the code is still active.
Let's get you up to speed on the latest code for a free Dark Matter, what it gives you access to, and the other ways to earn the cards.
NBA Finals Locker Code
The NBA Finals are always a good time to keep an eye out for Locker Codes. The code wasn't displayed for very long, but we've got it.
Most times Locker Codes don't offer much, but this one is a banger. Offering up a free Dark Matter card.
Enter the code: 'FINALS-NBA2K-BOS-GSW' for your chance to receive a Playoff Option Pack that includes the following players.
Dark Matter Andrew Wiggins
Dark Matter Jordan Poole
Dark Matter Al Horford
Dark Matter Marcus Smart
There is no set date as to when the code will expire, but it's sure to expire soon.
Thank you for reading!